Welcome to Precious as a Pearl
Looking for freshwater pearl jewellery?
Need a custom design or size? ✔️
Looking for a special gift of pearls? ✔️
Pearl Wedding Anniversary gift (30th) ✔️
Freshwater pearl studs? ✔️
Freshwater pearl earrings? ✔️
Freshwater pearl necklace? ✔️
Freshwater pearl bracelet? ✔️
Made by hand? Unique? ✔️
Traditional hand-knotting technique? ✔️
Wide choice of clasps and findings? ✔️
Silver or gold-filled findings? ✔️
Good value? ✔️

Supporting an independent maker? ✔️
Shop Now Collections
Baroque Pearl earrings in different styles
Classic and Elegant
These new additions to the earrings collection are pretty as well as elegant and are finished with quality silver hinge back findings.
Shop Now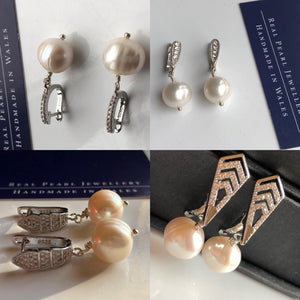 Hand-knotted baroque pearl bracelets
Made to measure hand-knotted on silk thread and with a variety of clasps to choose from... which type do you like? Simply, vintage or classic? 
Shop now
Our store
Based in Cardiff in the UK  and shipping to UK only.
Mon - Fri, 10am - 6pm
Saturday, 11am - 4pm
Feel free to use the chat!